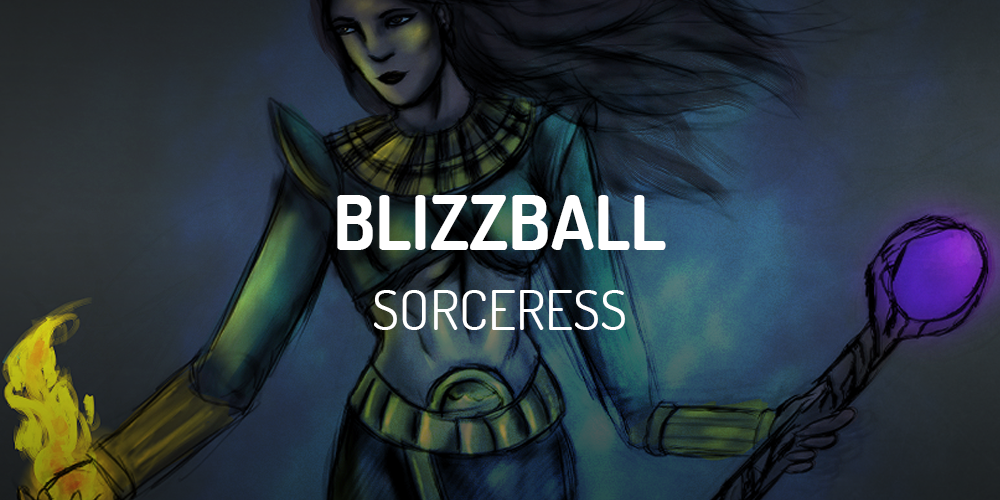 Blizzball Sorceress or Blizzballer is an alternative to Meteorb Sorc build. It relies on both Cold and Fire Spells, so it can deal with enemies with every kind of immunity. Monsters that are immune to both Cold and Fire are all unique and very rare to find. This is the advantage of the Blizzballer compared to other builds of the class that focus on a single element.
You have two spammed spells (Fire Ball and Glacial Spike) and two spells with a time delay (Blizzard, Meteor) in your arsenal. The ability to have two spells of each type lets you maximize your damage, regardless of the immunity of the enemies.
Most of the time, you would first cast Blizzard on the approaching enemies and then cast Fireball non-stop (versus monsters without Fire or Cold Immunity).
While fighting versus monsters with Fire Immunity, it's better to cast Blizzard and then spam Glacial Spike.
When you face monsters with Cold Immunity, cast Meteor, and spam Fireball.
In the case you cooperate with a Necromancer or a build that needs a large number of corpses, it's more useful to use Meteor and Fireball, in order to leave corpses for them. You can use Glacial Spike versus Fire Immune enemies or in an emergency.
Blizzball Sorceress Skills
---
Regarding the skills, some players are debating about maxing the Fire and Cold Masteries, or if it's better to max your main Skills. According to the numbers, you will have more damage output if you max out the 4 primary skills, e.g. Fireball, Meteor, Blizzard and Glacial Spike. This is because synergies provide more damage based on the percentage than maxing out Masteries.
In addition, +skills bonus can increase the synergies of Fire Mastery, but +skills on Meteor won't increase the bonus on Fire Ball. As a result, it's worth placing your points in Meteor, because you can fix low Fire Mastery  %damage with other means.
Almost the same applies to Cold Mastery and Cold spells, especially at low levels. Playing at higher levels, it's worth to invest some points in Cold Mastery too.
To sum up, we recommend maxing out your four primary skills, Blizzard, Meteor, Glacial Spike, and Fireball. You have to place a point to all prerequisites too. Teleport, Warmth, Static Field and Fire Mastery need a point too. Also, start your Cold Mastery with a single point, and later in the game spent the rest of your points here.
Blizzball Sorceress Stats
---
You need Strength only to be able to wear the proper gear.
Keep your dexterity at the base.
Energy maybe needs just a few points at the start of the game. You shouldn't invest more points here.
Your Vitality needs a lot of points, actually all the rest of them.
Blizzball Sorceress Equipment
---
The most suitable items for this build are those that enhance all of your skills. Otherwise, you can favor one or two of your skills.  Tal Rasha's full set is a good choice too.
Killing Equipment
Weapon
Heart of the Oak (Ko+Vex+Pul+Thul Runeword)
Death's Fathom: For boosting your Cold Damage.
Eschuta's Temper: For boosting your Lightning and Fire Damage.
Switch: Call to Arms (for using Barbarian's Warcries)
Helm
Crown of Ages: It requires many points to Strength though.
Armor
Chains of Honor (Dol+Um+Ber+Ist Runeword)
Ormus's Robes: It increases the damage of all three elements.
Enigma(Jah+Ith+Ber Runeword): Use it only if you need Strength points.
Shield
Sanctuary(Ko+Ko+Mal Runeword)
Gloves
Belt
Arachnid Mesh: It's the best option for casters
Boots
Sandstorm Trek: It's better to sue the Ethereal version
Rings
Dwarf Star: If you need Damage absorb
Amulet
Magic Finding Equipment
The items listed below will grant you a high amount of Magic Finding ability without sacrificing a lot of your killing and survival ability.
Weapon
The Oculus: With an Ist Rune
Blade of Ali Baba: With 2 Ists Runes
A 6-Socketed Weapon with 6 Ists Runes
Shield
Rhyme(Shael+Eth Runeword)
Splendor(Eth+Lum Runeword)
A 4-socketed shield with Ists Runes
Helm
Harlequin Crest: with a Perfect Topaz
Tarnhelm: with a Perfect Topaz
Armor
Tal Rasha's Guardianship: 3 pieces will boost your Magic Find chance
Skullder's Ire: With Ist Rune or a Perfect Topaz
Gloves
Any Rare Magic Find gloves
Amulet
Rings
Any Rare Magic Find Rings
Belt
Tal Rasha's Fine-Spun Cloth 
Boots
Any Rare Magic Finding boots
Mercenary
---
The best choice is a defense mercenary (in normal from act 2) with a defensive aura, to help you live longer. You have enough CC (crowd control) so you don't really need a mercenary with Holy Freeze.