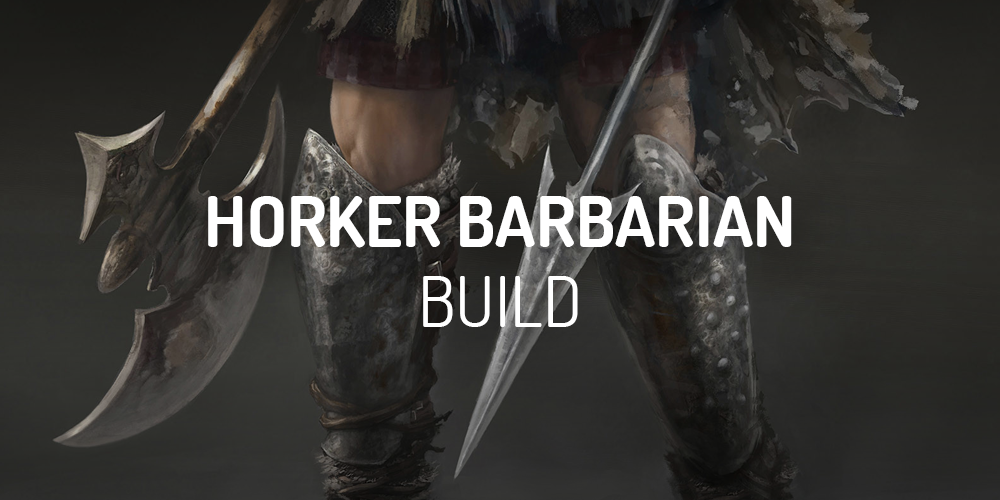 Horker, The Gold Find Barbarian, or Gambler is a special Barbarian build that focuses on finding gold and gambling.
Some basic facts you should consider regarding the build:
It makes sense to gamble only if your Barbarian is at least level 93.
The best way to gather gold is killing Travincal council.
The only thing that matters in gambling is the level of your character.
Follow the procedure below to gather gold as fast as possible:
Leave all your gold in the stash.
Activate your War Cries skills and run to the council.
If your Mercenary has been left behind, enter Durance of Hate and enter Travincal again.
Kill council members using Whirlwind.
Use Berserk to kill the physically immune enemies.
Use Frenzy in order to kill the mana burners.
Then, switch to weapons with an extra gold bonus.
Use Find Items skill to search all corpses.
Collect all the gold and the valuable items.
Repeat the process until you can't carry any more gold.
It's time to go gambling! Equip your Edge Runeword for -15% to vendor prices and go to Alkor (Act 3, Kurast Docks). The best items to gamble are tiaras/circlets/coronets, rings, gloves, amulets, belts, and boots.
Horker Build Skills
---
Your primary skills that you should invest 20 points are:
Whirlwind: It's your main attack.
Axe Mastery: It boosts your damage.
Battle Orders: It increases your health and mana.
Invest 8-10 points in Find Item skill
Others skills that require just 1 point:
Battle Command
Bash
Berserk
Concentrate
Double Swing
Double Throw
Find Potion
Frenzy
Howl
Increased Speed
Increased Stamina
Leap
Leap Attack
Natural Resistance
Shout
Stun
Spend your remaining points on Iron Skin for increased defense.
Horker Build Stats 
---
Strength: You should have enough Strength to wear the best gear.
Dexterity: Same as Strength to equip your best weapons.
Vitality: Invest all point left here.
Energy: Don't waste any points on
Horker Build Equipment
---
Weapons
Ethereal Berserker Axe Breath with the Dying RuneWord.
Berserker Axe with Beast RuneWord.
Switch Weapons: 2 Blades of Ali Baba with two Lem Runes or a six-socketed weapon inserted with 6 Lem Runes.
Helm: Crown of Thieves inserted with Lem Rune or the Immortal King's Will with two Lem runes.
Armor: Wealth Rune Word.
Gloves: Chance Guards.
Boots: Infernostride.
Amulet: A rare or a crafted Amulet with 70% extra gold from monsters. It's even better if it provides  +to all resistances.
Rings: 2 Dwarf Stars
Belt: Goldwrap, preferably upgraded.
Charms:
Annihilus
Hellfire Torch
Gheed's Fortune
as magic charms with much extra gold and resistances as you can get
For Gambling: a 3 socketed bow with Edge runeword – it reduces all vendor prices by 15% when gambling
Mercenary's Equipment
---
Weapon: Ethereal War Pike with Breath of the Dying RuneWord.
Armor: Fortitude in eth armor with good defense.
Helm: Andariel's Visage with Ral Rune.