What is BitCoin?
BitCoin is the first decentralized crypto-currency. This means a few things. First, that there is no organization or country that backs it. It isn't in a set spot like a bank; it exists on multiple Internet connected computers, split into small bits of code, in various locations so it can't be stolen easily. Bitcoin is "mined" (created) by using your computer's full capabilities, so it can do no other process but "mine", by decrypting code and sending it back to be turned into BitCoin.
How do you spend BitCoin?
BitCoin is managed either in an exchange, like CoinBase, or an application called a wallet. The application normally monitors the price for converting your digital currency into actual cash and is used to complete all your purchases with BitCoin. You fill your wallet by transferring BitCoin from an exchange, just like you would when you're taking money out of the bank.
How do I buy BitCoin?
Purchasing BitCoin is super simple: All you need is a crypto-wallet and exchange of your choice. Using an exchange like CoinBase, you'll need to create an account to buy or sell BitCoin. Most exchanges deal in multiple types of crypto-currency, so you can purchase anything from BitCoin to other famous types like Ethereum and DogeCoin. Once your account is set up you'll be prompted to input your banking information, either your debit/credit card or direct deposit information. Upon confirmation, which shouldn't take a few minutes, you'll be ready to trade your hard earned cash for premium 'space man' money in the Buy/Sell section of your exchange. Since a single BitCoin is worth so much, literally thousands of dollars, you are able to purchase small percentages of a coin called "Bits". These "Bits" are the only other denomination of Bitcoin since they can range from .00001% of a whole coin to .50%, etc. Simply put, your crypto-exchange will automatically calculate how much your dollars, pounds, or euros are worth in BitCoin down to the last cent or pence. Your crypto-wallet you created earlier will act like your ATM and debit card, this is because you'll have to transfer your shiny new digital currency to your wallet before you can spend it.
How do I spend BitCoin at Yesgamers and what are the advantages of buying with Bitcoin?
After sending your Bits and/or BitCoin from your exchange to your wallet, you're ready to buy some D2
runes
and
rare items
with your future money. Luckily, Yesgamers uses BitPay to process BitCoin transactions quickly and securely. Paying with Bitcoin also gets you 30% off your Yesgamers order (this happens automatically at check-out)! Some security protocols differ between crypto-currency wallets, so be sure to double check if your crypto-wallet is compatible with BitPay.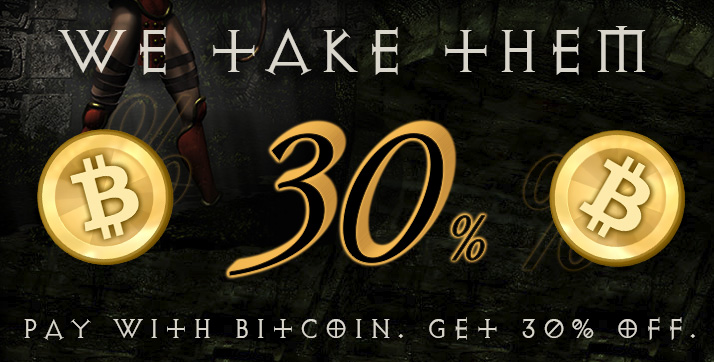 List Updated July 2018
BitCoin Wallets:
BitPay Wallet
,
Copay Wallet
,
Mycelium Wallet
,
Airbitz Wallet
,
Electrum Wallet
,
Bitcoin Core Wallet
,
Bitcoin.com Wallet
, and
BRD Wallet
.
BitCoin Cash Wallets:
BitPay Wallet
,
Copay Wallet
,
Bitcoin.com Wallet
,
Bitcoin Cash Wallet
, and
Electron Cash Wallet
. For any hardware wallets, because you're hardcore in D2 and real life, check BitPay's support page
here
. Now all you have to do is fill out the BitPay invoice that should pop up after you've selected to pay with BitCoin option while checking out. The bottom half of the pop up will list the three options you have to complete your purchase.
A. This is a QR code you can scan using your phone. If you don't have your wallet's application on your phone, this will not work. Once scanned it will automatically enter the receiving address and amount in your wallet. Just tap "Send" and your order will be on its way. B.
Clicking this will copy the URL so you can paste it manually in your wallet's "Send" form. You'll have to fill out the amount and send it. C. This is the fastest method of payment, however it will only work if your wallet is on the same device you're using to view the invoice. This will open it directly and auto fill the receiving address and amount just like option A. Click the send button and you're all done. It's important to remember that you have
15 Minutes
to send your payment, or the transaction will fail.